Update 1.1.2 | People and Automatons
Frostpunk was released in April but development and improvement on the title hasn't slowed down! Today, we are very happy to announce that the brand new DLC 'People and Automatons' is now available to all owners of Frostpunk – for free!
While working on this update, we at 11 bit studios have spent hours on top of hours browsing through forums and comment sections on Frostpunk. Based on suggestions from our community, most of the features and changes implemented directly address those concerns — and because of that we'd like to take this opportunity to thank all the people who are contributing there on daily basis. Without further delay, let's take a look at the new content:
GENERAL NOTES:
Naming Characters and Automatons — You can now change the names of your people and automatons. This feature not only allows you to dive deeper into the in-game world, but will also help you while managing your city because from now on, you'll be able to search for individuals (both men and machines) using given names. And we can also imagine that some streamers and youtubers might be happy about this one – naming citizens after their subscribers? Sounds like a perfect idea!
New Visuals — We dedicated many hours working on new visuals for certain elements of the game, including: Hunter Airships, Hunters' Huts, Gathering Posts, Outposts and Workshops. From now on your city will look better than ever before and what's more, it will be easier to find certain facilities among all the other buildings.
Intel NUC Skull Canyon and Razer Chroma Support — it's rather self explanatory, really! If you own the aforementioned devices you can now use their full potential in our games. We think you're gonna like it!
Fixes, optimization and ALL THAT STUFF — As always, we crushed a number of bugs that were bothering our players and optimized here and there, improving the overall experience for the game. For the full list of changes, be sure to check the change log below.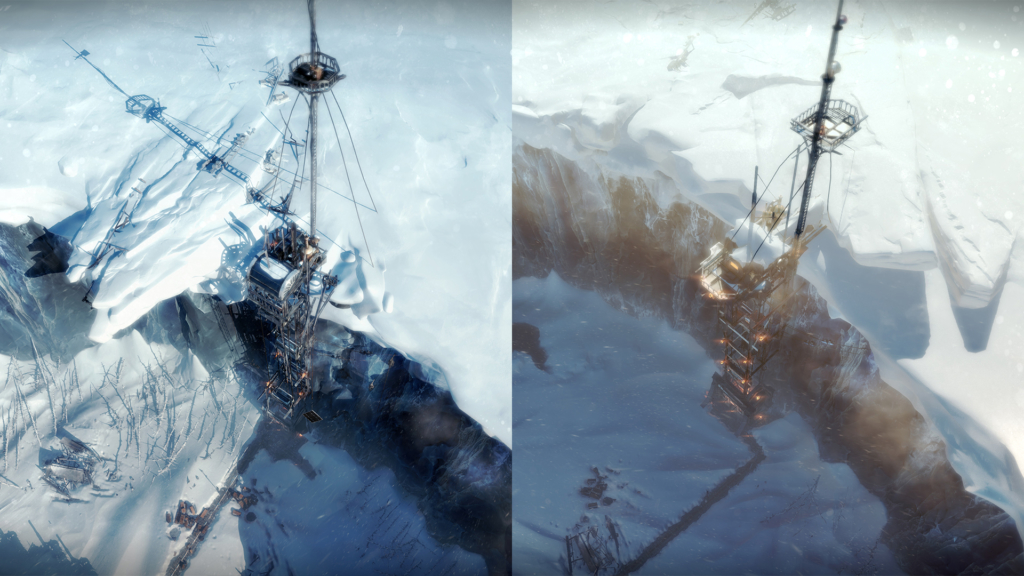 FULL CHANGE LOG:
New features:
You can now change the names of your people and automatons
You can now search for people and automatons by name
New visual variants of hunter airships
Diversified looks of Hunter Huts, Gathering Posts, Outposts and Workshops
Keyboard can now be used to navigate the main menu
Added Intel NUC Skull Canyon support
Added Razer Chroma support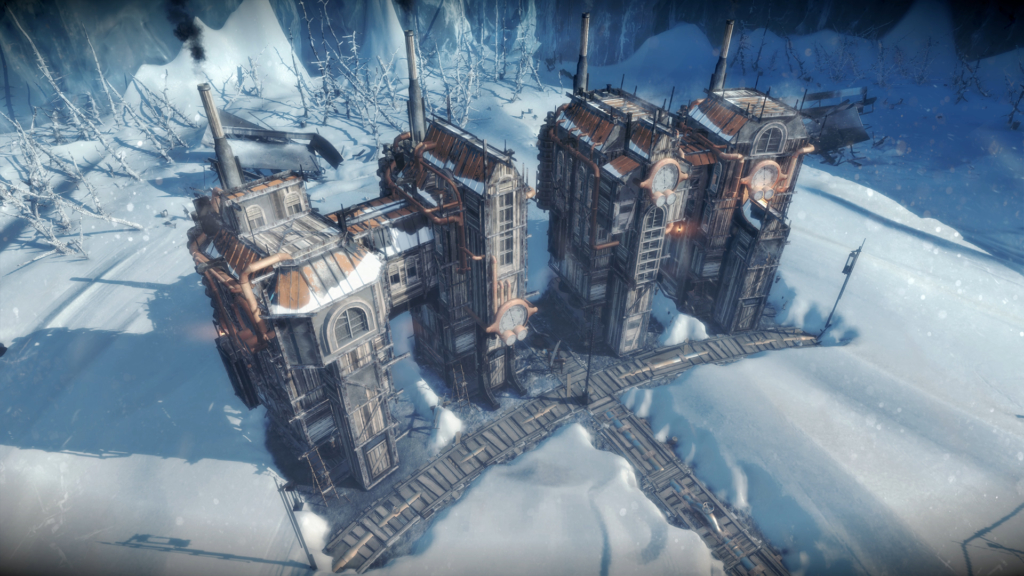 Smaller changes and balancing:
Building grid revamped – it is now easier to fit an optimal number of buildings within an area. Also, buildings will expand to adjacent, otherwise unusable single-cell spaces, resulting in cleaner layouts.
Many tweaks dealing with erratic hunter behavior and people getting stuck
Additional UI tweaks and fixes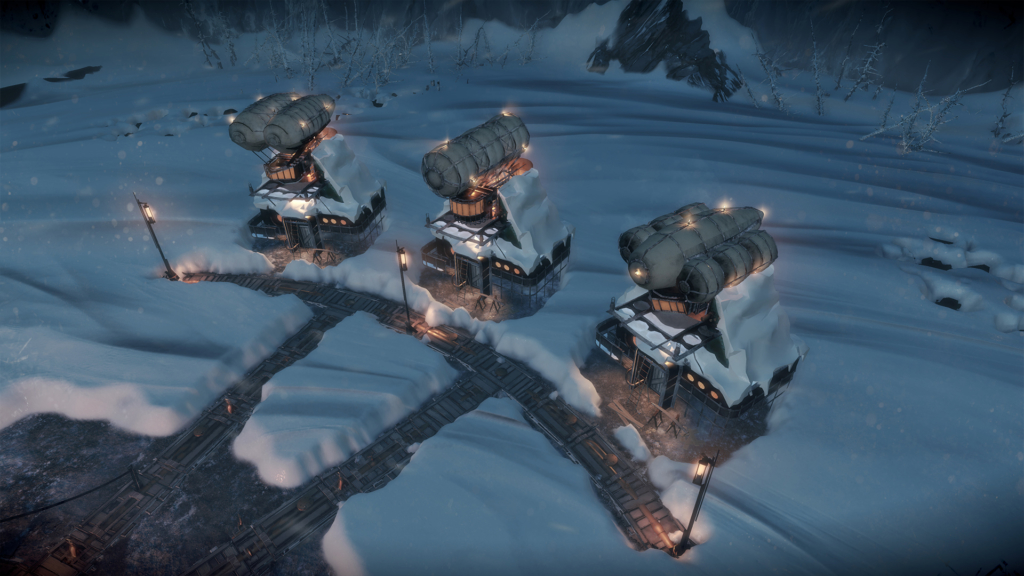 Fixes:
Fixed a crash after selecting a group of people approaching the city
Numerous optimization changes
Fixed required temperature tutorial
Fixed problems with binding multimedia keys
Additional FX fixes
Fixed issue where wrong icons appeared over buildings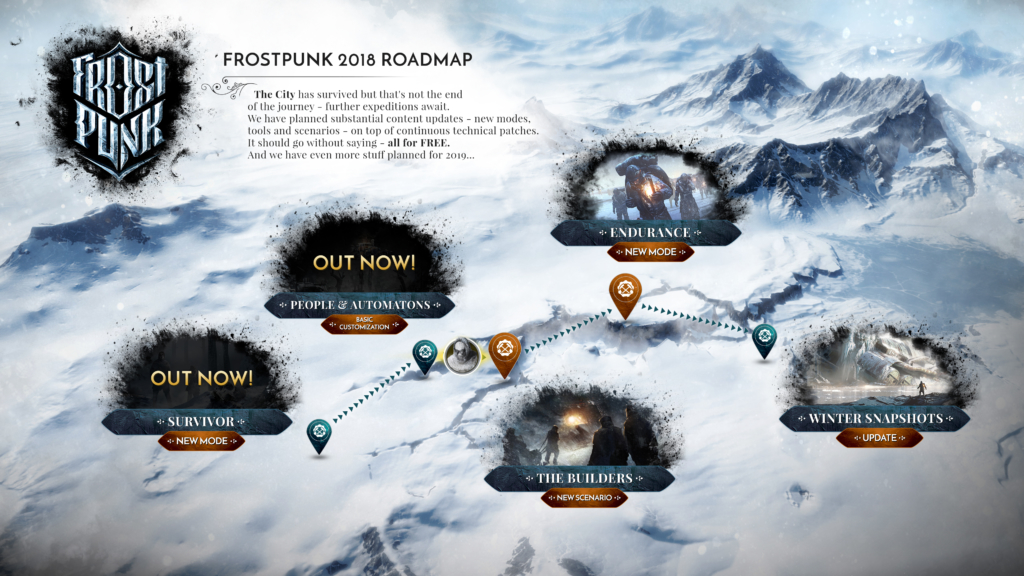 FAQ:
What about the future updates? When are you going to release them?

Next big update is a brand new story scenario! It's a big milestone for us and we know you're going to love it. We can't give you the date, yet, though.

'People and automatons' is not the biggest update in the world. What's up with that?

It's very simple. We are very much focused on delivering the next story scenario and other upcoming (bigger) updates this year. 'People and automatons' let us give you something new and cool – but without slowing down the overall development process. We believe it's a win-win situation for both you and us. 🙂

Do you have any plans for 2019 if it comes to updates?

Yes, we do plan to further support the game in 2019 with updates, big and small. 🙂 However, let's focus on 2018 for the time being, okay? Check out the Roadmap for 2018 below to be up to date with our current plans:
You can get Frostpunk on:
Don't want to miss future updates?
Remember that's not our last word when it comes to Frostpunk. There are more free updates coming in the future (new scenario!), so be sure to follow our social media channels to stay up to date:
The City Must Survive!