Update 1.3.2 | A Christmas Carol – Free Update
Hello there, Citizens!
It's the end of December – and in the old days, it meant that Christmas is near. To preserve the tradition – let's celebrate it with a free update!
In the neverending winter of the late 19th century, humanity's last survivors are desperately trying to build the foundation of a society capable of surviving the endless deep freeze. In the darkest of times, what they truly need is a little bit of hope — a tiny piece of home in a world far away from the home they remember. The holidays draw near, and the survivors come to you, the leader of this frozen hellscape to ask for 'A Christmas Carol' to cheer them up.
A Christmas Carol story:
is available in Endless Mode
adds a new Christmas themed quest line
lets you construct a new building
challenges you with new dilemmas
is free!
Fixes and additional changes:
Fixed an issue when "There was no Waldo" could be unlocked in New Home scenario
Fixed an issue when dismantling and reconstructing the Beacon during storm enables you to send scouts when the storm is still raging
Fixed an issue where you could upgrade buildings for free
Lighting changes and improvements to Faith buildings
Lighting changes and improvements to Canyon map
Some translation fixes
Additional minor fixes and optimizations
Also, remember – if you encounter any new issues with the game – we've created this email address: techsupport@11bitstudios.com – don't hesitate to use it! Contact us about any bugs/crashes that you notice. However, with the Holiday Season nearing – we might be a little bit slower with the replies than usual. Thank you for your understanding.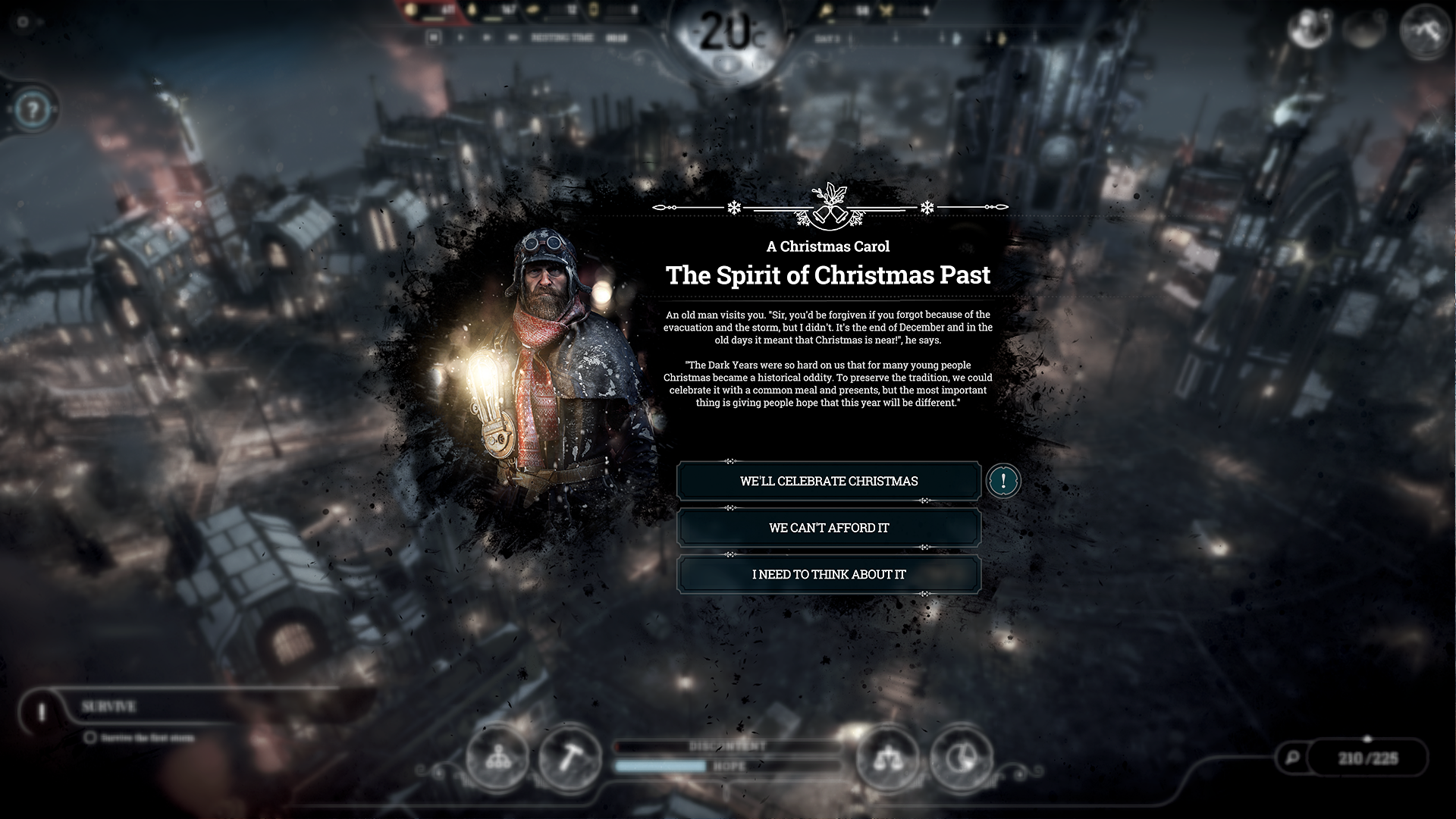 Get Frostpunk on:
Don't want to miss future updates?
Remember that's not our last word when it comes to Frostpunk. There are more free updates coming in the future, so be sure to follow our social media channels to stay up to date: